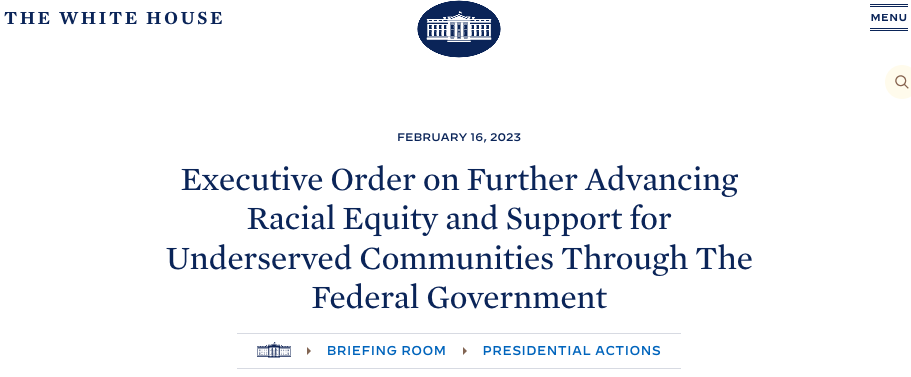 Summary: The President of the United States, Joe Biden, has recently authorized an Executive Order intending to enhance racial equity and foster support for marginalized communities via the federal government. The Order mandates that federal agencies employing artificial intelligence (AI) systems assume novel equity responsibilities and instructs them to forestall and rectify any form of discrimination, including safeguarding the public from the perils of algorithmic discrimination.
What you should know: The recent Executive Order on Further Advancing Racial Equity and Support for Underserved Communities Through The Federal Government emphasizes the importance of advancing equity for all, including communities that have long been underserved, and addressing systemic racism in the US policies and programs. This order implies that AI systems should be designed to ensure that they do not perpetuate or exacerbate inequities and should be used to address the unfair disparities faced by underserved communities. It is also implied that the Federal Government should work with civil society, the private sector, and State and local governments to redress unfair disparities and remove barriers to Government programs and services, which could be facilitated by the development and deployment of ethical and responsible AI systems. Additionally, the order emphasizes the need for evidence-based approaches to equitable policymaking and implementation, which can be achieved through collecting and analyzing data on the impacts of AI systems on different communities. Therefore, AI practitioners should ensure that their systems are designed, developed, and deployed to promote equity, fairness, and inclusivity and are aligned with the Federal Government's commitment to advancing racial equity and supporting underserved communities.
The Center for Standards and Ethics in Artificial Intelligence (CSEAI)
Following President's Executive Order, we at the CSEAI recognize the critical role of artificial intelligence in promoting fairness, accountability, and transparency. As a research center committed to developing responsible AI techniques, we believe our work can help meet the challenges and opportunities of emerging regulation, standardization, and best practices in AI systems. We are inviting industry members to partner with us financially and take part in collaborative research on trustworthy AI. Our mission is to provide applicable, actionable, standard practices in trustworthy AI and train a workforce that enables fairness, accountability, and transparency. We believe our work will help mitigate AI adoption's operational, liability, and reputation risks.
The CSEAI brings together leading universities to conduct collaborative research in responsible AI techniques. We are committed to workforce development and providing accessible standards, best practices, testing, and compliance. We are proud to be a part of the NSF IUCRC Program and are excited to be supported by the NSF, which provides a standard agreement, organizational, and legal framework.
Join us in creating a better future for all Americans by developing responsible AI practices that promote fairness, accountability, and transparency. By partnering with the CSEAI, you will have the opportunity to work with a dedicated team of researchers, participate in cutting-edge research, and help shape the future of AI. Contact us today to learn more about partnering with the CSEAI.
Contact Pablo_Rivas@Baylor.edu and find out more at www.cseai.center.